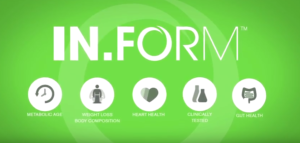 When a new potential coach first inquires about the IN.FORM program, they obviously want to know what they will be bringing to their clients. I will give a quick, no fluff overview of the modules in this post just to give you a basic intro into this program. Let's get started!
MODULE 1: Discuss and teach the Core Program, Essential food plan, explaining the value of gut health and what metabolic syndrome is. Also touch on, the important question,"What is your WHY?"
MODULE 2: Goal setting. Where do you want to be in 90 days? Learn the skills it takes to achieve your goal.
MODULE 3: Lose weight by losing toxicity. The value of cleansing . Rdding the body of toxic chemicals.
Module 4: The importance of protein. Learn about body composition. The protein value for tissues. Something better than BMI.
Module 5: Repair your heart health: Learn the gut/heart connection.
Module 6: Mastering your food environment. 3 categories of food. Revisit, "Where do I want to be in 90 days?"
Module 7: The dark side of sugar. Cravings and strategies. ( I often "preview" this early on as this is very challenging for most participants).
Module 8: The Emotional World of Eating. Stop playing hunger games. Learn how flower essences can help.
Module 9: Dealing with stress. The mind/body connection. What part does cortisol play? The gut as second brain.
Module 10: Glandular health and plateaus. Possible Thyroid connection.
Module 11: Time to replenish. Maintaining a healthy lifestyle. What's working and what is not?
Module 12: The importance of social connection. Review goals. How to continue success and live with friends and family.
Module 13: Mindfulness eating. What are you most proud of? Where do I go from here?
Want to know my favorite part of this program? Besides not having to reinvent the wheel, I like that there is plenty of room to really add my own personal touches. I can offer other classes and workshops as I learn more. I can offer an optional class on making your own non-toxic personal care products or tie in a natural household cleaners workshop to compliment the module on toxins. If I am teaching in the late summer, I invite my participants to bring a guest to my herbal first aid workshop. If you are familiar with marketing, you know that it is easier to retain a client than it is to attract a new one. When you truly serve the person, you don't become irrelevant…and they will happily promote your offerings to their friends. Good Business. Ready to see how IN.FORM can be a cornerstone in YOUR practice? Fill out a contact form and let's get the conversation started!